Knitting Instructions For Beginners
How To Knit Stitches
This page is full of easy knitting instructions for beginners so come on in.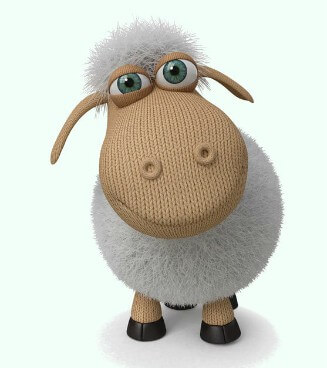 This is where you'll learn how to knit all the basic knitting stitches for beginners. 
And you'll learn some basic knitting techniques as well.
Each knitting lesson includes a carefully chosen knitting video to help you along as well.
After all sometimes it's just nice to see how it's done.

Just think of the wonderful things you'll be knitting when you've mastered a few basic knitting stitches. 

And it won't take long either. The possibilities are endless and fun. 
If you've arrived on this page and are wondering how to get started with knitting you may like to check my beginning knitting page. 

Or if you're in a hurry and want to start knitting today you may enjoy my six-step knitting guide to get you started knitting even faster.
Basic Knitting Instructions

These knitting instructions cover basic knitting stitches and techniques. 

So grab your ball of yarn and knitting needles and have some fun with it.
Casting on This page gives you an introduction to casting on methods.  If you are in a hurry though here are the links to the three casting on methods I will show you.

How to cast off knitting (How to bind off)
How to Make 1   (Another knitting increase you'll want to learn)
When you finish knitting you'll need to tuck in all those loose dangly yarn ends so you'll need some knitting instructions on:
Then you're going to want to know how to actually sew your pieces together. 

How to seam knitting with mattress stitch  (for vertical stockinette stitch seams)
And
Seaming garter stitch    (side seams)
Note:  As you begin knitting those first few stitches you may find it helpful to have a look at my tips for knitting beginners page too.
There are some helpful little knitting hints to help you out as you practice your knitting skills.
Even More Knitting Instructions

Have you run out of yarn yet?  Joining yarn is a very simple knitting technique.

Joining Yarn - How to Add a New Ball of Yarn  (adding a new ball in the same color and changing yarn colors)
How to Knit Cables   Find out how easy it is to knit very simple cables.
Knitting Cables Without A Cable Needle:  Honestly, you may like this way better. 

Ever Struggle To Understand Knitting Multiples?
Reading Stitch Patterns: Do you love all those pretty knitting stitch patterns but can't seem to wrap your head around what they mean by knitting multiples? This page walks you through it all so you'll understand stitch patterns once and for all.
Oh And Don't Forget These Little Knitting Gems
Now that you are well on your way to learning knitting there is one other very important step to learn.
Please take the time to learn about knitting gauge. It is so important and something that is overlooked a lot. I actually believe it is the most important part of learning to knit.

Tinking  How to unknit stitches one at a time. At some point you may need this.
At some point you'll need to familiarize yourself with some of the common knitting abbreviations and knitting terms. These pages will help with that
Knitting Instructions For Fixing Two Common Knitting Mistakes
Dropped Stitches  Did a stitch slip off your needle? It'll be OK. This page will help you out. 

Twisted Stitches  Ever wonder what they are?  Have a look at this page and you'll be able to catch those twisted stitches before they happen.
Happy Knitting!

Like This Page?  Please Share it