Knitting Abbreviations - What Those Letters Mean
Feel a little lost with those knitting abbreviations in your knitting pattern? 
Knitting does seem to have it's own language especially when you're reading through a pattern. You'll see letters muddled together and terms that you may not be sure about.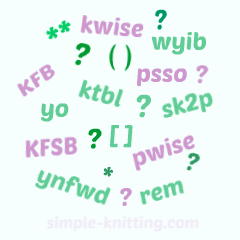 The good news is I'll help you sort it out
I've created a list of the most common abbreviations and their meanings.
These are basic knitting abbreviations and as you continue learning to knit these will become much easier to understand. 

There's always going to be new ones popping up so get used to the basic ones, the rest will come later.
You'll find a lot of the basic knitting abbreviations are just short forms of the word itself, for instance 
k for knit 
p for purl
tog for together
And if an abbreviation is two words long it will be a short form of the two words, RH for right hand and you guessed it LH for left hand. 
Most beginner knitting patterns will have simple abbreviations which you'll be able to familiarize yourself with as you work through the pattern. 
And most well written knitting patterns will list the knitting abbreviations used plus an explanation if it's a more complicated stitch.

As you practice and become more familiar with knitting the abbreviations will start making more sense too.

Take a look at the list below. Some have links that you can click on for a little extra help.
Common Knitting Abbreviations
slip 1, knit 1, pass slipped stitch over (slip as if to purl)
slip 1, k2tog, pass slip stitch over
slip 1 stitch to right needle without knitting it
slip marker
with yarn in back of work
with yarn in front of work
repeat instructions within ** as required
repeat instructions within ( ) and [ ] as required
Please check out my page of  knitting terms to help understand as well. If what you're looking for isn't here it may be on that page. Or if you can't find what you're looking for just drop me a line in the comments below and I'll be happy to help.