Helpful Resources For Knitters 
There are some very helpful resources online for knitters that I'd like to share with you.
I use them and thought you'd like to check them out too.  They all make my knitting a little easier and even more fun.
Things like a knitting calculator and help with knitting yarn substitutions.  And even a free basic sweater pattern generator online.
It's so neat to have these things at your fingertips to enhance your knitting and make it more fun.  
So read on my friends, you just might love some of these helpful resources just as much as I do.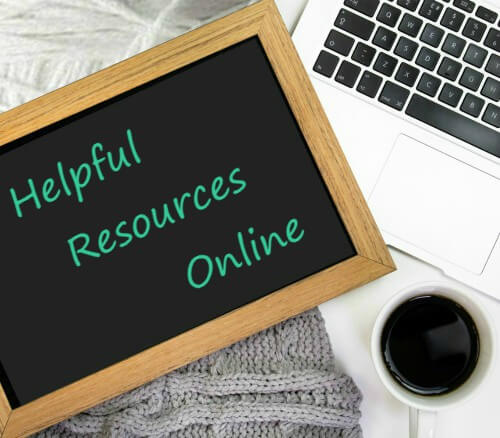 After all, we can all use some help with knitting at one time or another. And it simply makes your knitting life easier. 
So let's get started...
Helpful Resources #1 - Yarn Substitutions 

YarnSub can help you find the perfect yarn substitutions for your next knitting project. 
If your knitting pattern is calling for a certain yarn and you'd rather change it out, it's not always easy to choose another one.  
You'll need to look for yarn with similar qualities as the one your pattern wants you to use, things like fiber, gauge and so on.
And well, it can get a little frustrating finding the right yarn substitution until now that is.
YarnSub is a great help when you need to find suitable yarn.
Each yarn substitute is broken down by: 

fiber
gauge
texture
content
the qualities of the yarn so you'll be able to make your decision.
This will give you a good comparison to the original yarn.  

There's even a nifty filter too so if you want to filter out a certain fiber like wool for example, you'll be able to do that.
Plus if you sign up for YarnSub's emails you'll get an update on all the new and discontinued yarns.  

And you'll also receive a list of recently published crochet and knitting books.  Now that's pretty cool!

Helpful Resources #2 - Sweater Pattern Generators And Much More
Knitting Fool is one those knitting websites you'll want to bookmark!

There's great knitting information here like basic sweater pattern generators, even a sweater wheel from the old days!   
You'll find knitting stitch patterns completely alphabetized or listed by multiples or even listed by stitch type like cables for instance.
You'll also find knitting chart symbols and abbreviations. And here's something I think is really unique. 

You'll find knitting terms that are translated from other languages to English! 
Wow, so far this amazing gal has translated from 16 other languages. You've just gotta check it out.
This knitting website is filled with helpful resources and I think you'll enjoy it as much as I do.   

Knitting Resource #3 - Stripe Generator
Random Stripe Generator is a fun way to get ideas about how to organize the stripes you want to create.

For instance how thick or thin and how to truly make the stripes look random.
While there are many stripe generators out there I keep coming back to this one.
It's very simple to use.  You simply enter in your colors, decide on the distance between the rows and click a button. 
So if you just want to make stripes every other row that's fine. 
But if you'd like the stripes to be completely random that's when it gets fun. And this is where the stripe generator comes in handy.
It creates a sample of what your stripes will look like with the colors your chose. And it's fun to use.
In fact I used it for the stripes in my cozy knit scarf.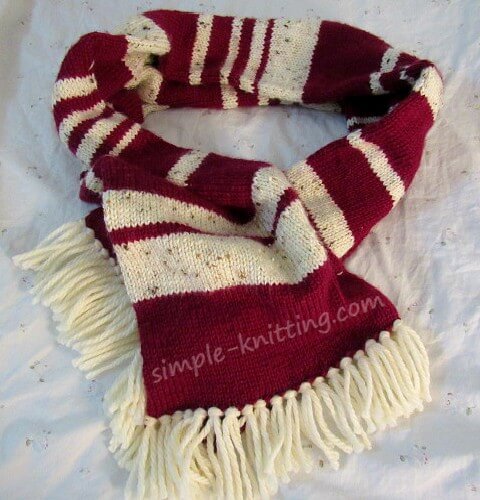 Knitting Resource #4 - A Knitting Calculator
WorldKnits has a great knitting calculator for knitting increases or decreases evenly across your row and I love it!   

There's even a calculator for increasing or decreasing stitches to taper a sleeve for a sweater. I think it's pretty cool.

It's always nice to know how to figure these things out for yourself BUT it's also nice to have a break and get it done for you. 

Keep it simple.
Helpful Resource #5 - Craft Yarn Council
The Craft Yarn Council is one of those knitting websites you may not have thought of first off.  

But they have some pretty amazing knitting information and even more helpful resources.

You can learn about yarn weights and standard sizing for making your own knitting patterns. 

There's even current knitting news and so much more. Knitting away stress is still a pretty hot topic.
You just have to go check it out some time. 
Helpful Resource #6 - A Hat Knitting Calculator?  Yup!
I came across this one page super Simple Circular Hat Calculator and quite liked it.

And you guessed it. It's all about knitting hats on circular knitting needles. 

It's just one page long and if you have the basic understanding about how to knit a hat in the round then this page is for you.
All the numbers are laid out for you. You just have to pick out your ball of yarn, make a gauge swatch and follow the instructions.
It's actually a great way to design your own knit hats.

You may want to print the page though. That way you'll have it all ready for your newest creation.

Since we're on the subject of hats I just want to mention my hat knitting tips page.
It helps you figure out:
how to measure your head
your hat size
how many stitches to cast on 
how to figure out the decreases at the crown of the hat
I hope you'll check it out some time.
Helpful Resources #7 - Free Knitting Patterns
Here is a list of some knitting websites where you'll find all the free knitting patterns you want. I use all the them.

AllFreeKnitting  Great knitting website to find hundreds of free patterns.

Cascade Yarns  One of my favorite yarns and they have some lovely free patterns

KnitPicks  Great place for free knitting patterns and paid ones, knitting tools and supplies and of course their beautiful yarns.

Knitting Patterns Galore  Lots of free patterns

Lion Brand   You'll find lots of free knitting patterns.

LoveCrafts  This website is all about crafts of all sorts. You'll find both free and paid knitting patterns. 
Purl Soho From knitting to crochet, quilting to embroidery Purl Soho has it all. Lovely free and paid patterns. Great for inspiration too.

Ravelry is a community of over 2 million crafters of all sorts:  knitters, crocheters, designers, the list is endless. 

And it's a great place to meet other crafters, share patterns and show off your knitted projects.
You'll find lots of free and paid knitting patterns.
It's also a great place to get knitting ideas and inspiration. You will need to sign up and join Ravelry but don't worry it's free to join.

Yarnspirations  They have lots of free and paid knitting patterns.

I hope this helps.  Happy Knitting!
Like This Page?  Please Share it