Knitting Books - Choosing The Best Books On Knitting
Knitting books can be a true blessing when you're learning to knit. Having one or two on hand to reference something or see how a specific knitting technique is done can really help you along the way.
Do you ever wonder which ones are actually going to help you learn? There are gazillions of books on knitting out there.  There's teaching books, knitting pattern books, stitch pattern books, designing books and then there are the specific books on things like lace knitting, cable knitting, intarsia. Well you get it.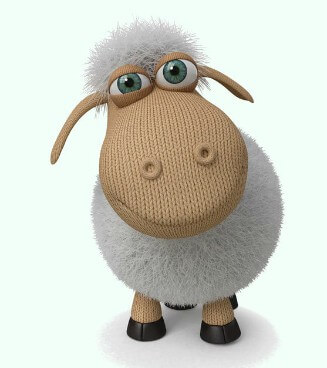 As a beginner knitter I thought you might like a few suggestions on which knitting books might really help you. After all it is confusing for someone who is new.
And I think if you could find even one book on knitting that you could reference it would really be helpful for you. 
Check out the knitting books I've listed below. All the books I talk about here are ones that I personally own or I've checked out of the library more times than I can remember.
Haha. Most of them I own though because I just couldn't help myself. They're so darn handy to have on hand.
I also understand that not everyone learns to knit the same way and knitting books that will help one person may not help someone else so I also have a very big suggestion for you.
One Very Big Suggestion and This is Important
Don't buy any book until you've had a chance to try it out. How? The best way is by going to your local library. Sign it out, have a good look at it and see if it's helpful for you.
Or if you don't have a local library go into a nice big book store, find the book you're interested in, sit down and have a good look at it.
You can click on the pictures and it will take you to Amazon so you can read about them and do check out the reviews too. Reviews can be very enlightening and useful when you're trying to decide. 
Also Amazon gives you a chance to look inside some books and I like that. It gives you a chance to see how the book is written. Do you like the writing style? Is it easy to read and so on.

I am a participant in the Amazon Services LLC Associates Program, an affiliate advertising program designed to provide a means for sites to earn fees by advertising and linking to Amazon.com and affiliated sites. If you make a purchase through one of my links I may receive a small commission. This will not affect the purchase price and you will not pay more when you buy through my link. 
Knitting Books for Learning How to Knit
Teach Yourself Visually Knitting
This is a great book to learn knitting. It walks you through all the steps from beginning knitting, learning how to knit the basic stitches to knitting your first project.  
The pictures are well presented with easy instructions and there's helpful knitting tips throughout the book. There's even a section on how to read knitting patterns.

You'll also find more advanced knitting techniques like lace knitting, cable knitting, color work. And there's some nice simple knitting patterns to practice. This book is full of good knitting information for beginners and once you've learned how to knit it will still be a very handy as a reference.

Stitch 'n Bitch: The Knitter's Handbook
Don't let the title throw you off. This is a great knitting book for learning how to knit and a great reference guide as you continue knitting. Mixed with humor and genuine sincerity, you'll find this book quite fun to flip through and to learn. 
You'll find useful tips and techniques and the instructions are very thorough with plenty of diagrams and illustrations. There's some great knitting information tucked inside.  Plus you'll find a nice variety of knitting patterns too.

The Most Helpful Book on Knitting Ever 
The Knitting Answer Book
Every knitter needs to have this little book tucked in their knitting bag. It covers just about every knitting question or problem a knitter may have.

From beginner knitting questions all the way up to skilled knitters questions it's all packed in this knitting book. There are hundreds of diagrams, photos and explanations that are all easy to understand and clearly presented. 

This book is chock full of great knitting information. It's like having a knitting expert in your pocket. "Don't leave home without it". haha  Honestly? This is my favorite book of all times and it's always beside me when I'm knitting...just in case.

Knitting Stitch Pattern Books
We all love those stitch patterns and it's always nice to have at least one book that will give you a nice selection.  These knitting books do not have knitting patterns in them. Stitch pattern books are just that - stitch patterns that you can incorporate into your knitting. There also fun to look at and try. 
A Treasury Of Knitting Patterns
This book is great and the first one I go too. Barbara Walkers treasuries are so well known and lovely books to have in your knitting stitch library.  Each book is filled with so much great knitting information plus all the stitch patterns you'll ever want to make. 

The pictures are very clear with all the stitches clearly defined. Each pattern is well written and easy to follow.

Something I truly enjoy about all of her books are the special notes at the beginning of each chapter. Those are a must read! It provides extra detail and understanding when you knit the stitch patterns.

A word of warning though. The pictures are in black and white. And honestly? I think that's a really smart move.  Why?  Because you'll be able to make out the stitch definition on the patterns. This book is a treasure trove of information. 

Second Treasury Of Knitting Patterns
This is Barbara Walker's second treasury book and it's also amazing and another treasure trove of knitting information for anyone who likes to knit. 

There's clear instructions and explanations so it's easy for anyone to follow. You'll find loads more of her lovely stitch patterns.  Once again make sure to read those special notes at the beginning of each chapter, you'll learn so much. 

In this book you'll find a section on edgings and border patterns which I really enjoy.  It gives me more creative ideas when I'm knitting.  In fact whenever I start looking through Barbara's books I have to have my yarn and needles ready because the creativity runs wild.  This book is bigger than her first book too. 

Third Treasury Of Knitting Patterns
This book contains 350 different charted designs. You'll find things like:
How to read charts
Textured stitch patterns
Cables
Lace
Mosaic
Color patterns
And much, much more
It's another excellent book and tremendous reference to have in your knitting library.  I really enjoyed the section on reading charts but Barbara makes it pretty simple to understand.

Fourth Treasury Of Knitting Patterns
This is Barbara's last in her treasury series. And this book is packed with some great knitting information too.  
This book is set up a little differently and covers things like stitch design, graphic layouts and detailed descriptions on how to complete stitch designs.

Unlike the other three books this one also includes sample garments using a stitch pattern design. Of course it too has some lovely stitch patterns as well.

Knitting Stitches Visual Encyclopedia
This is another great book on stitch patterns. I really liked this book too.  The stitch patterns are very clear and well written and each pattern also comes with a knitting chart.  
---
I also like the fact that they give you some patterns for borders and edgings. And you'll even find some color knitting stitch patterns for stranded knitting, Intarsia and color-slip knitting. It's a great book to have. 

There are loads more books out there and many of them are really excellent but this is something you can get started with. I have lots more at home so if you have any questions about a particular book and if I have it I will be happy to give you information on it.  

Once again, the best way to find out about any of these books is to check them out of the library first. That way you'll know for sure.
Oh and you may even enjoy stopping by my knitting magazines page too. These wonderful knitting books and magazines can really help you get inspired to started knitting something. I love them all! 
Hope this helps.  Happy Knitting!