What Is Knitting Gauge and Why Is It So Important?

Simply put knitting gauge (also called knitting tension depending where you live) is a sample of your knitting to find out how many stitches you get in one inch. And you do this by knitting up a gauge swatch (this is also called a tension square).
What a Knitting Gauge Swatch Looks Like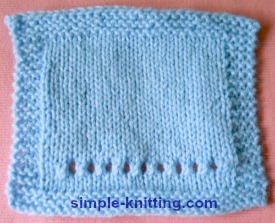 Pretty boring right?
But ..by knitting this little tension square it will help you match the knitting tension you have with the gauge in your knitting pattern. 
This is what it will look like in a knitting pattern:
Gauge 18 sts and 24 rows = 4 ins (10cm) with size 8 (5 mm) knitting needles in stockinette st.

It is also listed to give you the freedom to choose another yarn if you don't like the one in the pattern or you just want to try something else.
If you want to substitute a yarn in your knitting pattern check the yarn label to make sure that it matches the knitting gauge in your pattern.
Then make a swatch with your new yarn instead.

Note: Just because the knitting pattern suggests certain knitting yarns and needles it doesn't mean you have to use them. What is important is matching your knitting gauge to the pattern and if that means using a different size needle then go for it.
OK but Why is Knitting Gauge so Important?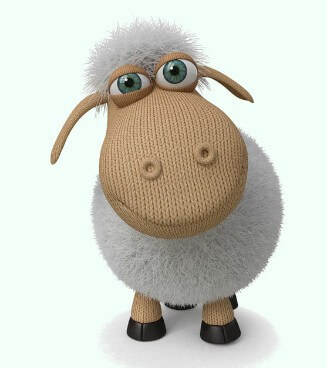 Because the size of the stitches matters a lot.

When you knit anything with shape like sweaters for instance, you want to knit the right size so it will fit. If your knitting is even off by half a stitch it could mean a sweater ends up being way too big or way too small. 
Here's an example:  You want to knit a sweater that is 40 inches around. The knitting gauge says you need 5 stitches per inch. With the correct gauge you can cast on 200 stitches and make your sweater.
(40 inches multiplied by 5 stitches per inch equals 200 stitches to cast on) This is the formula for knowing how many stitches you need on your needle.
(Inches times stitches per inch)

You don't bother checking your knitting gauge and end up knitting with 4.5 stiches per inch instead. But you still cast on 200 stitches and knit your sweater. When you finish you will actually have a sweater that is 44.45 inches not 40 inches.
(200 stitches divided by 4.5 stitches per inch equals 44.45 inches) This is the formula for knowing how many inches are in a specific area of knitting (and only if you know your knitting gauge)

Ok you may not mind a nice loose fitting sweater but what if it was the other way around and it ended up being 4 inches too small - hmmm I wonder if it would stretch.
You see I have been there more times than I'd like to admit. I really know.
Checking the knitting gauge beforehand and switching to a smaller knitting needle could have saved the disappointment.

Why take the chance when it is so easy to adjust in the beginning?
What Does a Gauge Swatch tell you?

Many things. You see a lot of things affect gauge like:

Yarn weight
Knitting needles (sizes and material of needle)
Stitch patterns - ribbing for instance goes in more like elastic when its knitted up
How tight or loose you knit

By knitting a swatch you can find out a great deal about the yarn itself and also about how you knit, things like:

If your yarn and needles match up to the knitting gauge in your knitting pattern
How well your stitch pattern shows up with the yarn you are using
Whether the color combination you chose works well
How tight or loose you knit. (This way you can adjust the needle size)
How easy the yarn is to work with. Some yarns look beautiful but are very difficult to knit with
A way to test and practice new stitches
Give you inspiration and ideas

Are There Knitting Projects That Don't Need Knitting Gauge?

Yes. You can probably find lots of things: wash cloths, blankets, some knitted bags,afghans and scarves don't necessarily need a gauge.
So What Do You Do With all the Swatches? (Seems like a waste)

I know how you feel because I thought that way too but then knitting a sweater that doesn't fit is a waste of time too. And disappointing. 

There are some things you can do with that swatch (or swatches).

You can frog (unravel) it and use the yarn in your knitting project or save it and use it with something else. Or, you can save a bunch of swatches and when you have enough you can sew them up into a small blanket or throw, even a scarf.
Create some swatch cards.  Pick up some recipe cards or something like it and write down all the knitting information you learned from that yarn.

Things to write down on your swatch cards:
Name of yarn
Color
Fiber
Needle size used
Stitches per inch
Then mark down any notes you have or things you made with it. Punch a hole in the card and attach it to your swatch and store it. Have a file for all your knitting projects.

If you have two swatches you can sew them together and make a small bag with it, or a change purse, or something to hold your smaller knitting tools in.
Save all your swatches and sew them all together into a nice comfy blanket. 
Save it and use it for a patch pocket.

There are probably more things you can do too. Have any ideas?
Here's Something I Did With One of my Swatches....

May seem a little silly but....I had a small plastic ice cream container and I was using it for small knitting tools. 

The thing is I don't really like plastic containers so I wrapped this swatch around it.  Ha..at least it looks prettier than the plastic container right? 
How Do You Knit A Gauge Swatch?
This is what I do to knit a gauge swatch.

First, check to see what the knitting gauge is in your pattern. So let's say it says:
18 sts and 24 rows = 4 inc (10 cm) with size 8 (5mm) needles in Stockinette st.

What this means is there should be 18 stitches in those 4 inches or 4 1/2 stitches per inch (18 divided by 4).

It's always best to add more stitches than what the knitting gauge actually reads. Why? The edge stitches are just not reliable to get a good gauge of your knitting and the bigger the swatch the more accurate your knitting gauge will be.

So in this case I would cast on about 30 stitches. That way you will have enough space to get a good reading.

Work about 1 inch in garter stitch (knit every row) Then work in Stockinette st. (knit one row, purl one row) for about 5 or 6 inches. 

What I like to do is knit 3 or 4 stitches of garter stitch at each end of each row. That will help it to lay flat. When you finish knitting 5 or 6 inches knit 1 inch of garter stitch and cast off your stitches. This way creates a nice frame to measure your stitches.

The best way to get an accurate measurement is to steam or wash your swatch. This is called blocking and it is a way to know how your fabric will look when it is washed. It also helps relax the stitches. If you ever plan on washing your knitting garment then you need to wash the swatch too. At the very least, give it a good does of steam. Let it dry and then you can measure the knitting gauge.
What Do You Need To Measure Gauge?

All you need is a stitch gauge or a plain ruler. I also use a calculator because I am terrible with fractions so I keep a little one in my knitting bag.

Measuring Your Gauge Swatch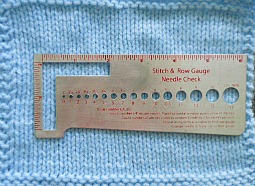 Lay your swatch out on a flat hard surface (not on your lap) and put your stitch gauge over your swatch without stretching the stitches in any way. 

Then you just count those little V's. Each 'V' is one stitch.

Count the stitches across and then count how many stitches are in the rows as well .

Here is a closer look at the stitches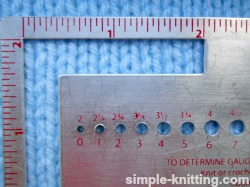 Before I take the stitch gauge off (and this isn't shown) but as an extra security, I measure 4 inches along the top of the stitch gauge  (outside the little slot ) and double check my gauge across the 4 inches as well just to make sure I have an accurate measurement. 
And that's it. Now you know how many stitches per inch you have and can check it with the knitting gauge in your pattern.

I have also included a very short video to help show you exactly how to count your stitches and rows using your stitch gauge.
I think this will help a lot. Boy, I sure wish they had videos when I was learning to knit. 
Knitting Gauge Knitting Video

Hope this helps. Happy Knitting!