How to Read Yarn Labels And Symbols

Yarn labels pack a lot of information about the yarn you're about to buy. 
So what does the label on yarn mean? Basically it tells you all about the yarn.
And it will tell you if it's the right yarn for your next project things like:
fiber content, wool, cotton, acrylic, bamboo for instance
what size knitting needles to use
yarn weight (light, medium, bulky)
yarn length (how many yards)

laundry care
color and dye lot number 
Note:  Each company has their own label so the information may not be in the same place.   
And some companies give more information than others.
It depends on the company but you should be able to find some information about the yarn.   

And once you know what to look for it's easy peasy.
Reading Yarn Labels And What To Look For
You can probably tell I made this yarn label and I numbered the important elements so that it will help you understand.
1. The largest letters on yarn labels will be the company name. This one is My Yarns. Um I know it's not the most creative.
2. It will list the actual weight and length of the yarn, this one is 7 oz/198 grams and 364 yards/333m

What's important to note is that you may pick up two different balls of yarn both weighing the same. 

They might even looking similar but they may not have the same yardage. 
For instance you pick up a sock yarn that is 100 g / 3.5 oz and you also pick up another light yarn that is 100 g / 3.5 oz.  

They may look almost the same but then you read the yarn label. 

You find the ball of sock yarn has 425 yds and the other ball of light yarn has only 346 yards.
Let's continue.  I broke my yarn label into a section here so you don't have to keep moving to the top photo. 

3. Next is the color and color number. This is light blue and the color number is A123.

4. The dye lot (or lot) number is 456.  Always check to make sure the dye lot numbers are the same.  
Even though the color may look exact it could be off a tiny bit. This is really important too.   
I have bought two colors that look identical but they weren't and it does make a difference when you're knitting.

If you can, buy enough yarn for what you need in your project that would be great. 

It may be hard to match it up if you run out. I'm really bad for that.  
5. The fiber content will be on all yarn wrappers. This one is 100% acrylic.
#6 Second Yarn Label Symbols
6. The next set of boxes show you the gauge and laundry care symbols.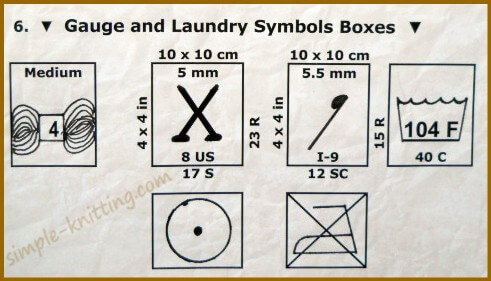 And the first box on your left shows a ball of yarn that says medium and has a number 4 in the center.  

This means it is medium weight. The number in the center describes the thickness so it's a size 4 medium weight yarn.  
The numbers for thickness start at 0 (thinnest) and go to 7 (thickest) according to the Craft Yarn Council yarn standards.

Yarn Label Symbol Especially Important For Knitters...
The second box from the left gives you some really important knitting information for such things as needle size and knitting gauge.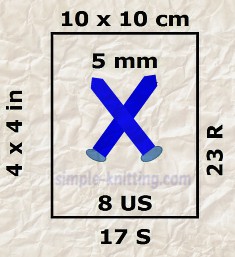 This section, the knitting needle symbol section, on yarn labels is the part that knitters need to take a look at.

Let's decipher what this means

First of all in the center is a pair of needles with the number 5 mm at the top and 8 US below. This is the suggested knitting needle size they want you to knit with. That's needle size 8 US (5mm)

On one side of the box is 4 X 4 inches, at the top is 10 cm X 10 cm. You need to make a gauge swatch that is 4 inches wide and 4 inches long.

The outside bottom of the box says 17 S (stitches), the right side 23 R (rows). This means that you will need to get 17 stitches and 23 rows in 4 inches. 

To narrow it down even further they want you to get 4.25 stitches per inch and 5.75 rows per inch.

The stitches and rows per inch is what's called your knitting gauge and it's really important to understand all about that too.  Here's my knitting gauge page if you'd like to have a look.
The third box is very much like the knitting one only it's for crochet and it's a crochet hook symbol.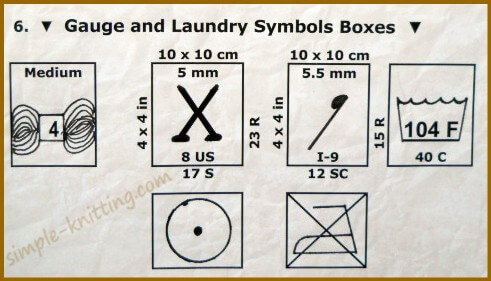 It suggests a crochet hook size of I-9 (5.5mm). Using that size hook should give you a desired gauge of 12 single crochet (12SC) and 15 rows (15 R) in 4 inches (10cm).

The far right box and the two bottom boxes are laundry care symbols for your yarn. After all it isn't going to be a ball of yarn for long right?
Do Yarn Labels Have A Use Once You Finish Knitting?
Yes possibly. If your knitting project was a gift you could include the yarn label with the gift.  That way they can care for their hand made gift. 
It also may be an idea to take note of the yarn care instructions for yourself or hang onto the label so that you can remember how to care for the fabric as well.  You can keep it with the swatch you made.  You did knit up a swatch right?  

Note:  Below I have listed some common laundry care symbols and their meanings. It wouldn't be right if  they weren't included.  And that way you have the yarn label symbols and the laundry symbols all in one spot.
***One Important note on laundry symbols***
The dots on any laundry symbol represents how hot you can have the heat setting. One dot is the lowest. The more dots the hotter you can have the heat. They are universal in that you may see them for washing, ironing, dryers and so on.
Any "X" on any laundry symbol means "do not"
Laundry Symbols

W A S H

Machine wash
Machine wash, permanent press
Machine wash, gentle or delicate cycle
Hand wash
Do not machine wash

W R I N G

Do not wring

B L E A C H

Use any bleach when needed
Use only non-chlorine bleach when needed
Do not bleach

D R Y

Tumble dry, normal settings, any heat
Tumble dry, high heat
Tumble dry, medium heat
Tumble dry low, permanent press
Tumble dry medium permanent press
Tumble dry low, gentle or delicate heat cycle
Tumble dry no heat
Lay flat
Line Dry
Dry in shade
Drip dry
Do not machine dry
Do not tumble dry

I R O N

Iron, any heat, steam or dry
Iron high heat
Iron medium heat
Iron low heat
Do not steam iron
Do not iron

D R Y C L E A N

Dry clean, any solvent, any heat, any cycle, any moisture
Dry clean, any solvent except trichloroethylene
Dry clean, petroleum solvent only
Do not dry clean
Hope this helps. Happy Knitting!

Like This Page?  Please Share it