How To Knit Wrist Warmers
Beginner Knitting Pattern
Wondering how to knit wrist warmers? This super easy to knit project is perfect for learning how to knit them
And they'll keep your hands and arms cozy and warm. It's a great beginner knit pattern.
I love making easy to knit projects for beginners. You can knit and learn all at the same time.
And they're a great way to practice basic knit stitches to help you gain confidence.
Plus it's not only practice but you get to wear them when you're done.

If you suffer from achy wrists when it gets cold outside these easy to knit arm warmers will help keep them warm.  
Arm warmers, wrist warmers, fingerless mitts all mean the same thing.
Cozy warm covers for your hands and arms. haha  And these make great gift ideas too!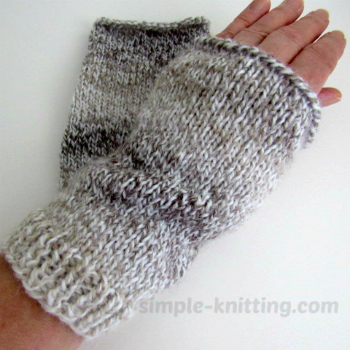 Wrist warmers can be worn on their own or they're great for layering when it's really cold outside. 

Sometimes I'll wear a pair of gloves and then put on my wrist warmers over the gloves for added warmth. 
Of course that's when it's really cold outside. 
I decided to knit these in plain Stockinette stitch so that you can practice the basic knit stitches. 
Once you've made a pair and see how easy they are to knit feel free to experiment and try some other stitch patterns.
I have quite a few you can try. Like the Andalusian stitch pattern or Basketweave, Broken Rib. 
Well there are lots to choose from so have a look and give them a try.
That way you'll have many different varieties with one easy to knit pattern.
And don't forget these knit arm warmers will make wonderful knitted gifts too and a great knit for charity item. 

Pick out some scrumptious yarn and just get your knit on. This is simple knitting at its best.
And I created sizes for these wrist warmers ranging from children to men's sizes. 
That way everyone can have a pair of knit arm warmers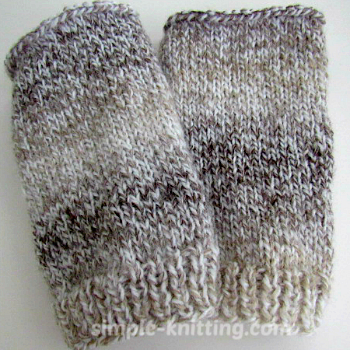 Also if you'd like your wrist warmers to go all the way up your arm just knit them longer.  

It's such a versatile east knitting pattern to practice with so have fun knitting and trying different things.
For all you guys out there this is a nice easy knitting pattern for you to work on too. 
Go pick out some great yarn and start knitting a pair or two or three.
Here is the PDF for my wrist warmers
Wrist Warmers Pattern Details
Skills Required: Cast on, bind off, knit, purl
Dimensions: The ones I made are 7 inches long and about 7.5 in circumference

Materials:  120 – 200 yards DK weight yarn depending on size.
Needles:  Size US 7 (4.5mm) 
Gauge:  5 sts per inch
Sizing: To fit wrist sizes as follows:
XS = 5 - 5.5 inches, S = 6 - 6.5 inches, M = 7 - 7.5 inches, L = 8 - 8.5 inches,

XL = 9 - 9.5 inches
Wrist Warmers Pattern Instructions - Make 2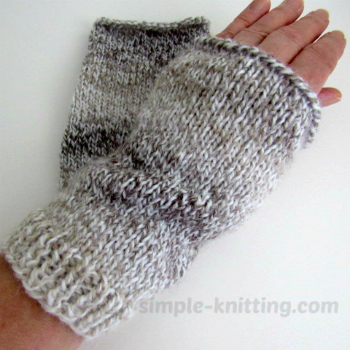 Pattern is written in the smallest size with the other sizes in brackets. 

Cast on 26 (32, 36, 42, 46) stitches and work 1X1 ribbing (Knit 1, Purl 1) for about 1 inch.

Switch to Stockinette stitch ( knit 1 row, purl 1 row) until you reach approximately 7 inches or the length you'd like.  

If you'd prefer to have a ribbed top then knit until you reach about 6 - 6.5 inches, then knit in ribbing for the final inch of your wrist warmer. 

Bind off loosely, cut yarn leaving about 10 inches of yarn to seam up sides. 
Like This Page?  Please Share it