Easy Fingerless Mitts Pattern
This is a super easy fingerless mitts pattern knit on straight knitting needles. And I'm excited to share it with you.
And yes you definitely can knit these fingerless mitts on straight knitting needles and you can even knit mittens on straight needles too.
I love to knit mitts. They're fast and fun to knit and they're also great for gift giving. 
If you're looking for knitting ideas, fingerless mitts are a great choice.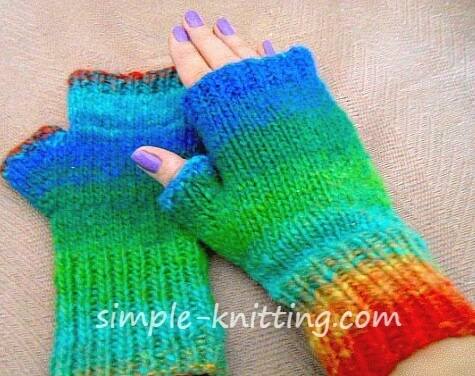 These two-needle fingerless mitts include a thumb gusset. I want to show you how easy it is to make one. 
What Is A Thumb Gusset? 
In general terms a gusset creates more room. And in this case the thumb gusset will make extra room for your thumb.
Another example of a knit gusset is when I made my big ol' knitting bag. I made side gussets so that it would be nice and big.
Here's something you may like to try --
You may like to try knitting both these mitts at the same time. That's how I knit these.  

All you do is use two balls of yarn and cast on stitches for each mitten, one ball for each mitt and away you go.

What's good about knitting mittens at the same time is they'll both be identical in length.

And once you're finished knitting you won't have to think about knitting another one. 
Click on link to download my easy fingerless mitts pattern.

Easy Fingerless Mitts Pattern Details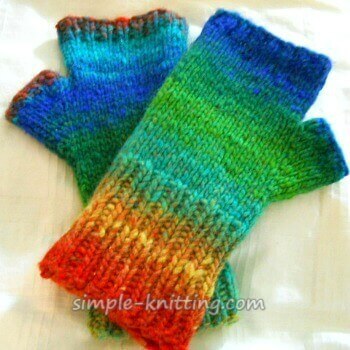 This easy fingerless mitts pattern is knit on two needles which makes it great for advanced beginners to try. 

It's also nice for knitters that don't like knitting in the round or just want to change things up a little.
Skills Required:  Cast on, bind off, knit, purl, k2tog, kfb (bar increase), sliip 1 stitch and place stitches on holder or scrap yarn
Materials:  Any worsted weight yarn. I used 2 skeins of Noro Kureyon #362 wool and knit both mitts at the same time.
Needles:  Size US 7 (4.5mm) and US 8 (5.0mm)
Stitch markers or waste yarn will work also. You'll need 4 markers if you knit both at the same time and only 2 markers if you don't
Gauge:  Using US 8 (5.0mm) needles, 4.5 sts and 6.5 rows = 1 inch
Abbreviations:  K, k = knit, P, p = purl, sts = stitches, K2tog = knit 2 stitches together, slm = slip marker, pm = place marker, kfb = knit front and back
Notes: This pattern is a way for beginners to learn how to knit mitts and to learn how to form a gusset for the thumb. 

Easy Fingerless Mitts Pattern (Make 2)
With size 7 needles cast on 36 sts and work in 1 x 1 ribbing for approximately 3.5 inches. 
You can make the cuff longer or shorter if you wish.
Switch to size 8 needles and knit Stockinette stitch for 1 inch finishing with purl row.
Thumb Gusset
Row 1: K 17, place marker, increase 1 stitch (KFB) in next 2 sts, place marker, (there should be 4 sts between markers), k 17 sts.
Row 2: Purl on all even rows

Row 3: K17, slip marker (slm), Inc 1 st in next stitch, k2, inc 1 sts in next st, slip marker (6 sts between markers), k17
Row 5: K17, slm, inc 1 st in next stitch, k4, inc 1 st in next stitch, slm, k17
Continue knitting as above increasing 2 sts at beginning and end of thumb gusset until there are 16 sts between markers. 
You should now have 50 sts on your needle.
Next Row: Purl

Next Row: K17, remove marker and place 16 sts on a piece of scrap yarn or holder. (leave on holder and continue with mitt). 
Using the backward loop cast on 2 sts, and continue knitting the last 17sts. 36 sts on needle.
Work 10 rows of Stockinette stitch

Change to smaller needles US 7 (4.5mm) and knit ribbing for 4 rows. 
Bind off in ribbing
Knitting Thumb
Slip thumb sts onto smaller needle (US 7) and rib 3 rows. Bind off in ribbing.
Finish
Seam up the side of mitten and thumb. Knit up another mitt.
Or if you knit both mittens at the same time then you'll need to do weaving in ends and enjoy!
Like This Page?  Please Share it