Big Ol Knitting Bag 
I just love my big ol knitting bag. It's soft and squishy and colorful and keeps my current knitting project in a nice, safe, clean spot.
And this knitting bag wasn't a planned project either.  Hmm that sounds kind of funny doesn't it? 
You see I had originally started knitting a bunch of big squares and was going to sew them all together for a blanket.  

But, well....I just lost interest. My heart wasn't in it, so I tucked away all the squares and left them. 
Do you ever do that? Just lose interest in your knitting ideas sometimes? 

Months later I came across my lovely garter stitch squares and decided to sew them up and make my big ol' knitting bag.
The nice thing is it's a super easy fun knitting project and I wanted to share it with all of you.

This knitting bag is simply two big knit garter stitch squares and I added a gusset so that it would be even bigger. 
 What Is A Gusset?
It's a piece of fabric that's inserted into a seam to add more room or ease to tight-fitting clothes, or...

In this big ol knitting bag the gusset is an extra piece of fabric going down the sides of the bag.  
Instead of just sewing the sides together I knit gussets and added them to the sides of my big ol' knitting bag.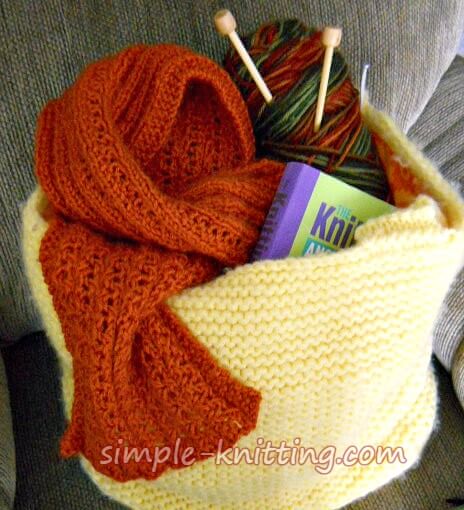 That way it would hold even more knitting things like this.
I hope you enjoy making your knitting bag. 
Click on this link to download my big ol' knitting bag pattern
Big Ol Knitting Bag Pattern Details 

Skills Required:  Garter stitch
Gauge:  3 sts and 6 rows = 1 "  But not to worry gauge isn't too important 
Yarn: Super Bulky, or Worsted Weight holding 2 strands together 
Needles: 10 (6.00 mm) or 11 (8.00 mm) will work. But you can experiment. Which ones are more comfortable in your hands.
Pattern Notes: I used two balls of worsted weight yarn holding 2 strands together in order to get the thickness I wanted.
However it may be easier for beginners to use the super bulky yarn and just use one strand.  
It will be easier for you that way and you don't have to worry about holding 2 strands in your hand. 
The gusset was made in one long fat strip and then sewn onto the squares and along the bottom. 
This makes the big ol knitting bag nice and big.
You can make these squares any size you like by increasing or decreasing the amount of stitches you use. 
Feel free to experiment.  And use whatever size knitting needle you like as well.
Remember that if you use a smaller size needle your knitting will be thicker and the bigger your needles are the thinner the fabric will be. Have fun with it.

Big Ol' Knitting Bag Pattern Instructions
Make 2 squares
Cast on 36 stitches. Use whichever cast on method you prefer
Knit until your square is approximately 12 inches.  Cast off loosely
Make Gusset
Cast on 18 sts and knit for approximately 36 inches.  Bind off loosely.
Knit Handle
Cast on 8 - 12 sts. depending how wide you want your handles to be and knit for approximately 12 inches. 
You can make the handles any length you wish. Just remember that the wonderful garter stitch does stretch.
Finish Knitting
Sew squares to the gusset. For the handles, seam one end of the handle to one end of square and the other end of handle to the other end of square. Repeat for the other side.
Do I have to line my knitting bag?
You don't have to line your knitting bag if you don't want. It is a matter of preference and also depends what you'll be using your knitted bag for. 
For instance if it's for knitting yarns you certainly won't have to line it.  

However if you plan on putting your knitting needles in there you may want too.
Tips For Lining Your Big Ol' Knitting Bag
Pick out a fabric and sew together an exact copy of your knitting bag making sure that it is ever so slightly smaller.  
This way it will fit into your knitted bag.
Next, place the lining into your bag and tack down the bottom of the fabric to the corners of the bag and along the side seams.  
Finish by whip stitching all around the top edge of your bag. I always place the fabric lining about a 1/4" lower than the top edge.
Now you're all finished.  I really hope you enjoy your big ol' knitting bag as much as I do!
Like This Page?  Please Share it