Flat Knit Hat - Easy Knitting Project
Here is an ultra easy flat knit hat for you to whip up in some of your favorite color yarns.  
It's a simple basic hat that you can embellish on your own in whatever ways you like. 

The nice thing about this basic hat knitting pattern is that you can have two fun looks, one is a simple cozy basic hat with the brim rolled up.
I knit the brim longer so that when it's rolled up it'll keep your ears extra warm.
And if you'd like to keep the brim down you'll have a nice slouchy hat.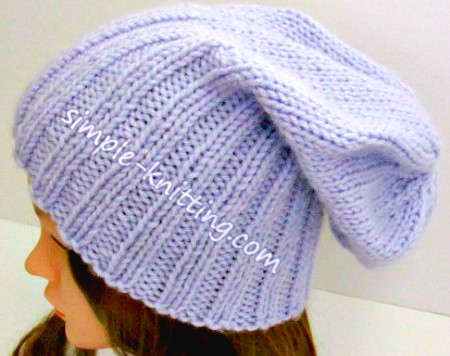 The other nice thing is, it's an even quicker hat to knit because it's knit flat. So there's no fussing with double pointed needles when it comes to the crown shaping. 

As I mentioned on my hat knitting tips page, people have often asked whether you can knit a hat flat. 

In reference to that question here is what a a flat knit hat looks like when you're finished knitting it.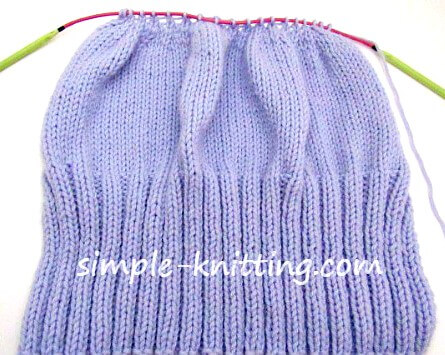 Knit hats are very simple to make and between my tips page and this page I'll show you how to make one lickety split.

The toughest part is when you need to shape the crown of the hat. That's the part when you start to knit decreases.

And what's really important is being able to work with the numbers (stitches) you have.

This hat knitting pattern shows you the quicker way to make the decreases while still keeping the top looking good.  It's fun and simple.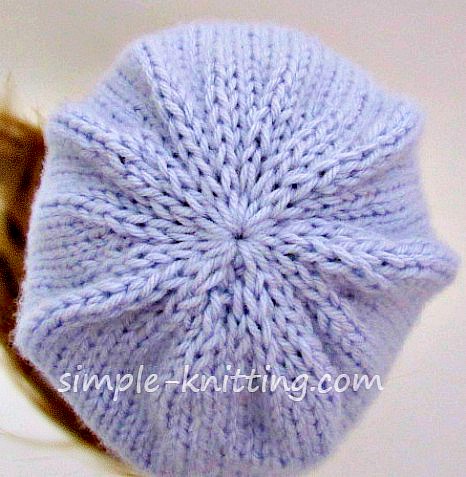 And it looks pretty fine to me.  
For those of you learning to knit a hat for the first time you'll get to practice 

The links are given in case you'd like to refresh your memory on how to work those stitches.
There are many knitting yarns you can choose for this knit hat.  As long as you choose a worsted weight yarn you'll be fine.
Self-striping and variegated yarns might be fun and you may even enjoy using a super soft merino wool.  

You can also decorate your hat with pom poms, buttons, fringes and tassels.  Just have fun with this basic knit hat pattern.
Here's the PDF link to download my knit hat pattern
Knit Hat Pattern Details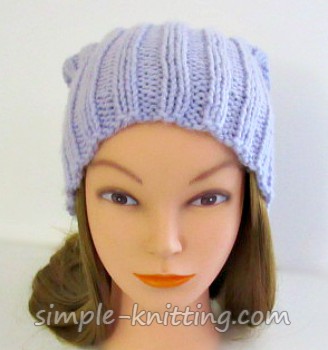 Skills Required:  Cast on, bind off, knit, purl, mattress stitch

Materials:  Approximately 150 - 200 yards heavy worsted weight yarn, I used Caron One Pound in the color lilac

Needles:  Size US 10 (6 mm) and US 10.5 (6.5 mm)

Gauge:  3.75 sts = 1 inch in Stockinette stitch using US 10.5 needles

Abbreviations:  K, k = knit, P, p = purl, sts = stitches, K2tog = knit 2 stitches together

Size:  Will fit most adults plus it's stretchy

Notes:  Brim is knit extra long in order to turn it up and have the double thickness to keep your ears nice and warm.
Knit Hat Pattern
With US 10 (6 mm) needles cast on 76 stitches using long tail cast on or whatever method you prefer.

Row 1:  Knit 2, purl 2 to end of row

Repeat row 1 ribbing for approximately 6 inches

Switch to larger needles now
Next Row:  Using US 10.5 needles begin knitting Stockinette stitch until your work measures 10 inches from the cast on.  (This will allow for another inch to shape the crown)

Stockinette stitch pattern:

Row 1:  Knit

Row 2:  Purl

Crown Shaping
Row 1:  *K2, K2tog, repeat from * to end of row.  58 sts

Row 2:  Purl

Row 3:  *K1, K2tog, repeat from * to end of row.  38 sts

Row 4:  Purl

Row 5:  K2tog across the row.  19 sts 

When you reach the 19 stitches continue on to the finishing and seaming below.
Finishing And Seaming Knit Hat
Cut yarn and leave a long tail at least 8 – 10 inches in length.  

Thread yarn tail through tapestry needle and work through remaining stitches on needle starting at the opposite end.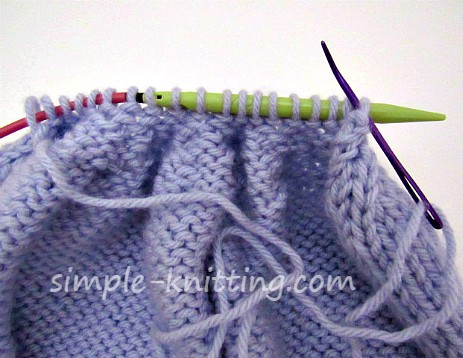 Draw up and pull tightly to close the top of the hat.  You can even work the needle through those top stitches a second time to make sure the hat is tightly closed.

Then continue seaming with the mattress stitch down the back of the hat.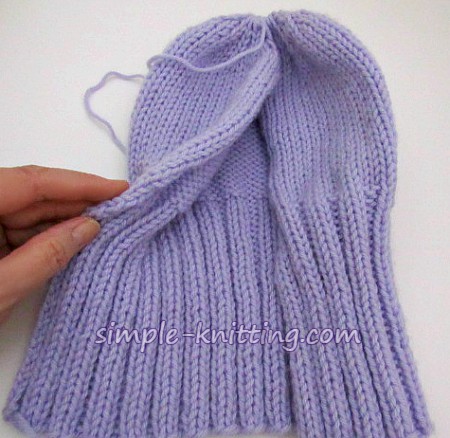 Weave in the ends and simply enjoy!  
I am a participant in the Amazon Services LLC Associates Program, an affiliate advertising program designed to provide a means for sites to earn fees by advertising and linking to Amazon.com and affiliated sites. If you make a purchase through one of my links I may receive a small commission. This will not affect the purchase price and you will not pay more when you buy through my link.