Keyhole Scarf Pattern - How to Knit a Keyhole

This keyhole scarf is a nice simple garter stitch pattern with a difference.  

This has a hole in one end to keep it fastened together and stay nicely wrapped around your neck.
Finally, a knit scarf that actually stays in place and keeps you nice and warm.

This basic knit scarf pattern is really simple and easy to knit and even advanced beginner knitters can give it a try.  I'm pretty sure you'll be okay with it.  
I chose garter stitch for this keyhole scarf so it would be easier to make. 
That way you can focus your attention on making the keyhole without worrying about your stitching.
We're having an endless winter out here in Canada so this garter stitch scarf will keep me nice and warm. I can't wait to use it.

Once you know how to knit a keyhole you may like to try different stitch patterns or using a different yarn.  The possibilities are endless with scarf knitting. 
And here's a friendly reminder, this keyhole scarf will make a wonderful gift for your friends and family.
Click on the link to download keyhole scarf pattern
Keyhole Scarf Pattern Details

Skills Required:  Knit, joining yarn and placing stitches on a stitch holder

Size:  Length - 45 inches (114 cm), Width - 7 inches (18 cm)
Gauge:  Woohoo it's not important

Materials: 2 skeins (see pattern notes) Patons Canadiana 100% Acrylic - 200 yds /182 meters Net wt. 3 1/2 oz. /100 g, Color - purple or any color you like
Needles:  9 US / 5.5mm for using 2 strands held together or 8 US (5 mm) for using 1 strand
Notions:  2 Small stitch holders and a tapestry needle   

Pattern Notes: This scarf only uses 1 ball of yarn however I used 2 balls and held two strands together as one so that it was thicker and warmer.
Keyhole Scarf Pattern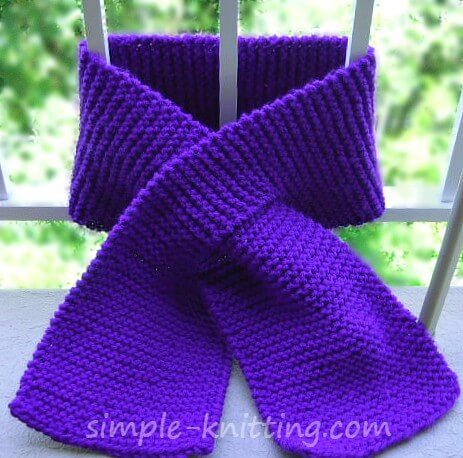 Cast on 24 stitches

Knit garter stitch for 8 inches.

Divide stitches for keyhole

Knit 12 stitches and place remaining stiches (12) on holder.

Turn work and continue knitting on 12 stitches for 4 inches.  Cut yarn and place these stitches on second stitch holder.

Slip stitches from first holder back to needles and join yarn.  Knit for 4 inches, same as for first slit making sure that the garter stitch ridges match up evenly on both sides of keyhole.  You've just created a keyhole.

Bringing all the stitches together
Next row:  Knit across 12 stitches on needle.  Slip the 12 stitches from holder onto left needle (make sure the stitches aren't twisted) and continue knitting across row. 

With all stitches on the needle, continue knitting until scarf measures 45 inches or as long as you like. 

Bind off loosely.  Weave in yarn ends.  When you tie in the ends at the keyhole make sure they're nice and secure. Then simply enjoy!
Like This Page?  Please Share it