Knit Scarf In Stockinette Stitch That Won't Curl

This knit scarf pattern is my all time favorite because it's in plain Stockinette stitch and it isn't curling. 
I'm sure many experienced knitters have done this before.  However I want to give beginner knitters another alternative for knitting a scarf in Stockinette stitch that won't curl.  

And this is a fun scarf knitting solution to try.
Sometimes I just want a nice, warm plain knit scarf in super soft yarn.  And most of all I don't want to worry about it curling up.

This has to be my favorite scarf.  And I was using it a lot through our long cold winter. It's super cozy and warm. 

The fun thing about this scarf knitting pattern is that it's made on circular knitting needles. And you'll be knitting a scarf in the round. 

Honestly, it's a lot easier than you think, in fact it's so simple and fun to knit.

All you'll be doing is knitting a long tube and then flattening it.  Read on and I'll give you all the details.

Types of Yarn To Use For This Knit Scarf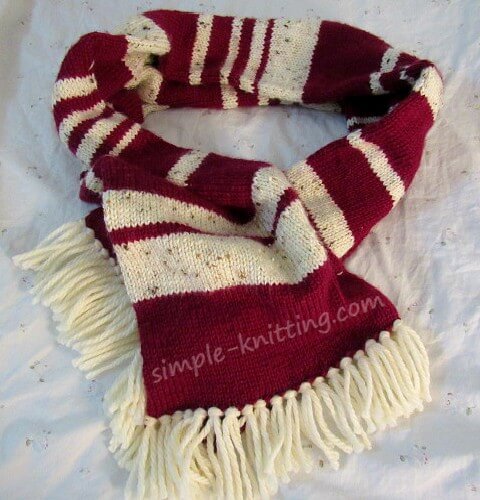 Use any yarn you'd like up to and including a worsted (medium) weight.  When you knit this scarf you'll be flattening it so a bulky yarn may be too heavy and awkward.

DK weight, Sport weight and Worsted weight yarns will be good choices for this scarf knitting project.  And you might also like to choose a lovely self striping yarn too.

Make sure to read the yarn label for a suggested needle size for that yarn. Click on the link if you'd like to double check what to look for on a yarn label.

Choosing Circular Needles For Your Scarf
We're all used to choosing the right diameter which gives us the stitch size right? In fact you'll probably need something like a US 6 (4mm) to US 9 (5.5mm) depending on the yarn weight you choose.

That's still important. However since you'll be knitting in the round you'll need to be aware of the length of the circular needle you're using as well.
I recommend either 12 inches long or 16 inches long. You decide which you would prefer.  

What you'll do is cast on enough stitches to go around whichever length you choose.  

Here's A Recap Before You Start Knitting
Choose your favorite knitting yarn, some nice self striping yarn would be fun to use (either DK, sport or worsted weight yarn)
Check the yarn label for a suggested needle size (for instance worsted weight you'll need size US 6 - US 9)
Decide which circular knitting needle length you want to use - 12 inches or 16 inches long
Purchase your fixed circular knitting needles (the package tells you the length as well as the diameter of your needles)
How To Cast On For Knitting In The Round
I thought I'd show you how to cast on for knitting in the round.  You'll need enough stitches to go right around the circular needle.
For instance I used a 16 inch long circular and cast on 100 stitches. This is what it looks like.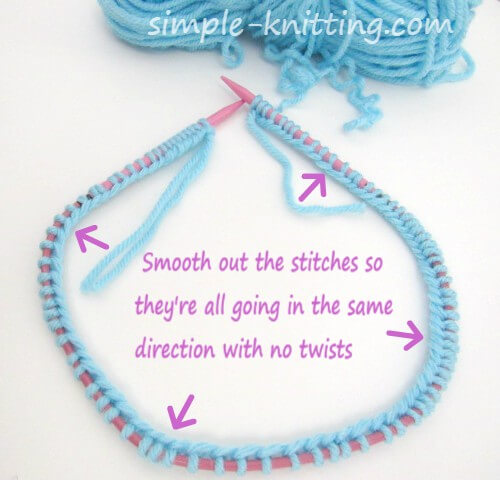 Make sure all the stitches are facing inward with no twists. And also make sure you have enough stitches on your needle so you can knit comfortably.
Sometimes it helps to lay everything down on a table so you can adjust the stitches.
Make sure none of your stitches look like the picture below.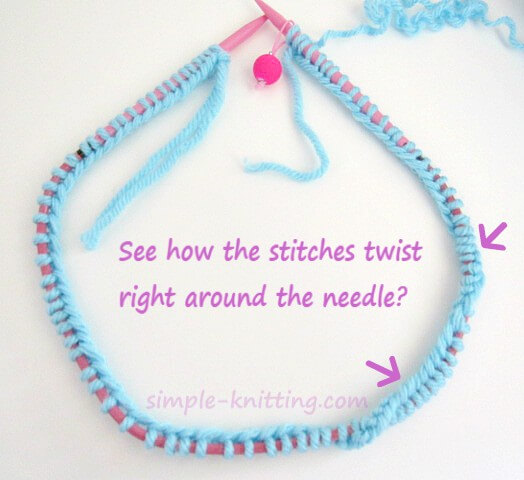 Some of the stitches are twisted in this photo. Make sure to straighten them out so they're all facing one way like the first photo. 
If you start knitting with the stitches twisted this way you won't be able to fix it and you'll have to start over.  
When you're stitches are all straightened out pop on a marker to mark the beginning of your round and you're all ready to go.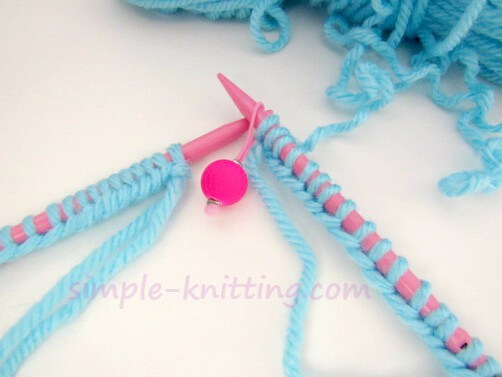 Now you're ready to knit.  You'll take the right needle in your right hand and start knitting into the stitches on the left needle. 
That's all it means when you join for knitting in the round.  You'll just keep knitting around and around until you reach the length you want for your scarf.

Knit Scarf Pattern And Details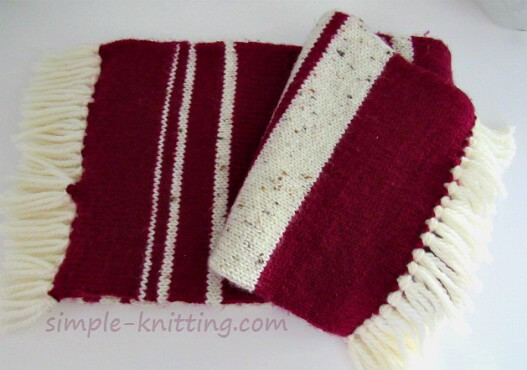 Skills Required:  Knitting in the round, casting on and binding off

Gauge not important

Knit Scarf Size:  10 inches wide and 60 inches long

Materials: Yarn:  3 skeins - Cascade Pacific yarn, 213 yds, 1 skein Caron Simply Soft, 250 yds (Yarn is (4) worsted weight, medium)
Circular Knitting Needles: US 9 (5.5mm), 16 inches long  
Notes:  Remember to choose a 12" or 16" length depending on the width you'd like your scarf to be. 

The length of your circular needles and the yarn weight you're using will determine how much yarn you use. I used about 750 yards for my scarf. That will vary so I can't say what you'll need.
Cast on enough stitches to fill your circular needle.  I used a 16 inch circular and cast on 100 stitches with worsted weight yarn. 

If you're using the 12 inch long circular you may only need about 75 stitches if you're using worsted weight yarn.  Again it depends on which yarn you chose.
When you reach the length you want bind off all stitches.

Finish:  Turn your scarf inside out and weave in ends.  It may sound silly to do this because obviously the ends are going to be on the inside.  

But I wanted to reinforce all the joins where I added a new ball of yarn to prevent any holes from forming.

Once your finished weaving in the ends, you can seam both ends of your scarf.  Or if you're going to add fringe to the ends the fringe will close the ends nicely.

I found a great knitting video to show you how to add fringe to your lovely knit scarf
Adding Fringe Knitting Video
Happy Knitting!
I am a participant in the Amazon Services LLC Associates Program, an affiliate advertising program designed to provide a means for sites to earn fees by advertising and linking to Amazon.com and affiliated sites. If you make a purchase through one of my links I may receive a small commission. This will not affect the purchase price and you will not pay more when you buy through my link.