Dishcloth Knitting Patterns
Easy Dishcloth Knitting Patterns 
Ready for a couple of dishcloth knitting patterns? I love knitting dishcloths. 

They're fast, fun to knit and a great way to spice up your kitchen or bathroom with fresh new colors.
And homemade knitted dishcloths make lovely simple gifts for your friends and family. 
Best of all, even a beginner knitter can knit a dishcloth. But watch out, they can become addictive.
And here's a thought. Maybe you'd like to learn some basic knitting skills in order to make some gifts this year. 
Well, these dishcloth knitting patterns are simple and a fun knitting project and just might be what you're looking for.
Knitted dishcloths are great for things like:
practicing your knitting skills 
testing out a new stitch pattern
knitted gifts
portable knitting project
And I just know that once you start knitting them you'll be hooked and you'll never buy dishcloths again. They're fun and addictive.  

What Kind Of Yarn Should I Use To Knit A Dishcloth?
Knit dishcloths need to be made with cotton or even some cotton blends work well like cotton/bamboo, or cotton/linen. 

They clean the dishes better and absorb water easily.  They also wash up nicely.
A lot of people tend to use medium (4) size cotton yarn. I do like this size if I'm knitting a washcloth. 
But I actually like my dishcloths to be a little thinner so I usually use a DK (3) size cotton yarn. 
It's a matter of preference and I just want to keep the possibilities open for you. 
There are no set rules when it comes to dishcloth knitting.  Try out different cotton yarns and see which ones you like.
What's A Good Size For A Knit Dishcloth
You know what? If you're going to knit dishcloths you can choose the size you like.  
Sizes vary. Some people like larger dishcloths and some people like smaller ones.
8" X 8" is a nice size for some people and that would be a nice size to start with.
On the other hand I personally like my dishcloths smaller so 6" X 6" is also a nice size.
What Needle Size Do I Need For A Dish Cloth 
Depending on the size yarn you're using it can be anywhere from a size US 5 - US 8.  
See what you're comfortable with. I tend to use a US 7 for most of my dish cloths. It feels the most comfortable for me. 
Grab some of your favorite colored cotton yarns and lets get started with these dishcloth knitting patterns. They are fun and easy.
Here's a link to download my dishcloth knitting patterns
Dishcloth Knitting Patterns #1 - Waffle Stitch Dishcloth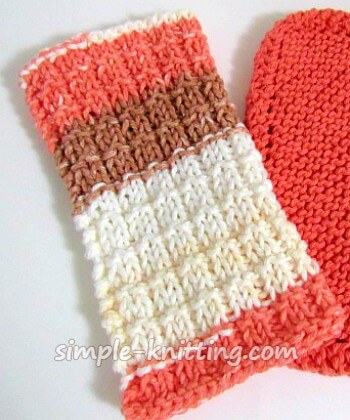 Skills Required:  Cast on, knit, purl, bind off

Gauge: Not important

Materials: Cotton yarn and needles size US 7 (4.5 mm) or US 8 (5.0 mm) 

Abbreviations:  K = knit, P = purl

Notes:  I used the waffle stitch pattern for this dishcloth. I included an extra stitch at the beginning and end of each row for a clean edge. 

Also slip first stitch of every row as if to purl with the yarn in back. Needle size is your preference and what's comfortable for you. 

Cast on 36 sts

Row 1:  K1, K1, *P2, K1, rep from * to last stitch, K1

Row 2:  K1, P1, *K2, P1 rep from * to last stitch, K1

Row 3:  Knit

Row 4:  Repeat row 2

Repeat these 4 rows until you reach approximately 8 inches or desired size.

Bind off loosely and weave in ends. 

Dishcloth Patterns #2 - Diagonal Garter Dishcloth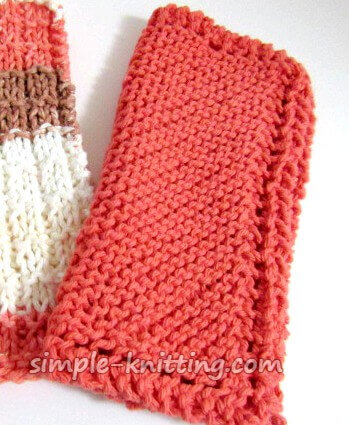 Skills required:  Cast on, knit, yarn over, K2tog (knit 2 together)

Materials:  Cotton yarn and needles size US7 (4.5 mm) or US8 (5.0 mm)
Abbreviations:  k = knit, YO = yarn over, K2tog = knit 2 together

Notes:  The needle size again depends on your preference and whatever the yarn label suggests. It's not overly important so whatever is comfortable in your hands. 

The 'yarn over' means to bring your yarn to the front as if to purl. If you'd like to try something different you can try the KFB (knit front and back) instead of the yarn over. I've done both and it's a nice variation for the pattern.

Cast on 4 stitches

Row 1:  Knit 4

Row 2:  Knit 2, YO, knit across the row

Repeat row 2 until you have 40 stitches on your needle

Next row:  K1, k2tog, yarn over, k2tog, knit to end of row

Rep last row until 4 sts remain on your needle

Bind off and weave in yarn tails

Where Can I Find Free Dishcloth Knitting Patterns?
KnitPicks  They have a huge selection of free dishcloth patterns. When you click on the link you'll go to their homepage. Click on their patterns and then you'll find their huge stash of dishcloth patterns.  

Simply Notable  This is a lovely blog! And for a nice change you can knit up some round dishcloths. These are fun to knit and there's a knitting tutorial to show you how to make them.

Yarnspirations  I found some lovely dishcloth patterns here that I think you'll enjoy.
Like This Page?  Please Share it