Cozy Scarf Knitting Pattern
Beginner knitters will love this simple to knit scarf knitting pattern and all knitters will love the simplicity of a quick and easy knitting project. 
Since you'll be using simple knit and purl stitches, bulky yarn and big needles this easy scarf pattern will be done in no time.
It's also very versatile because you can easily adjust the width of the scarf.  It won't affect the stitch pattern and it'll give you more choices for sizing your knitted scarf.  
With the holidays just around the corner this scarf knitting pattern will make a lovely knitted gift for your family and friends.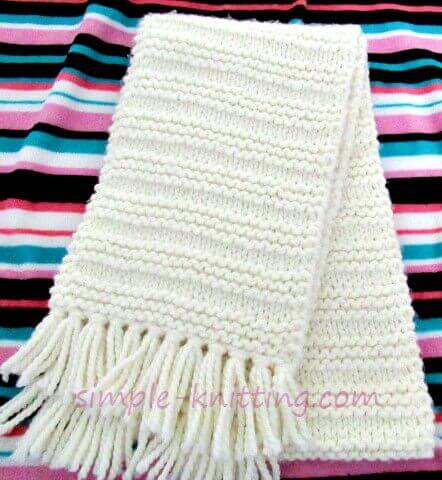 It seems like the winters are getting colder so this blanket scarf pattern will cover your head and shoulders and keep you warm on those blustery days.
I also decided to add tassels to my scarf knitting pattern to give it a fun look.  If you aren't sure how to make tassels I'm including a video below to help you out.  
Tassels are fun to make and it's a great way to use up your scrap yarn. Multi-colored tassels will look lovely.
Click on link to download my scarf knitting pattern  
Scarf Knitting Pattern Details
Skills Required: Knit, Purl, Cast On and Bind Off

Size: Approximately 10 X 70 inches

Materials: Super Bulky Yarn Approx. 300 yards

Needles: Size 15 US (10.0 mm)

Gauge: 2.5 sts per inch (Gauge isn't really important)
Notes:  If you'd like the option to make your scarf pattern thinner you can cut down the number of stitches and cast on 15.  I won't interfere with the stitch pattern. 

Your scarf will be about 6 or 7 inches wide instead. This way the pattern is more versatile to your needs and what you like. 

***And one more quick note. To create a nice clean edge slip the first stitch as if to purl with yarn in back and knit the last stitch on every row***

Scarf Knitting Pattern
Using your preferred cast on method, I used the long tail, cast on 24 sts.

Knit 5 rows in Garter stitch.

Continue as follows in stitch pattern:  
Row 1: Knit
Row 2: Purl
Row 3 - 8: Knit
Continue in stitch pattern until you reach the length you want. Make sure to finish knitting on row 8. That way you'll have three garter stitch rows at the beginning and ending.

Finish: Weave in ends. You can add tassels or even pom poms to the corners if you like. 

Stay warm and safe and enjoy!

How To Add Tassels Video
I am a participant in the Amazon Services LLC Associates Program, an affiliate advertising program designed to provide a means for sites to earn fees by advertising and linking to Amazon.com and affiliated sites. If you make a purchase through one of my links I may receive a small commission. This will not affect the purchase price and you will not pay more when you buy through my link.