Broken Rib Cowl And Headband
Broken Rib Cowl and Headband Knitting Pattern
This quick knit broken rib cowl and headband pattern is fast and fun to make and it's so pretty you'll want to make more than one set.  
This easy knitting project is simple enough for beginners which I love and it's also wonderful for all those experienced knitters that want a quick knit project to make. 

And it's also a great way for you to practice the broken rib stitch pattern too.  It's got just enough pattern in it to keep it interesting.

By the way this is a great quick knitting gift idea too. And I bet there's lots of people that will enjoy this broken rib cowl and headband when the cold winds start to blow.

The great thing about this easy knitting pattern is that both sides look great too. 
The first picture below is the broken rib stitch side.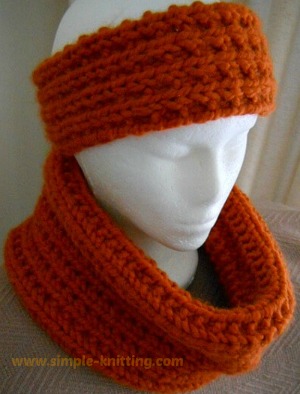 And this is the reverse side with the rice stitch pattern (below). Wow, I like both!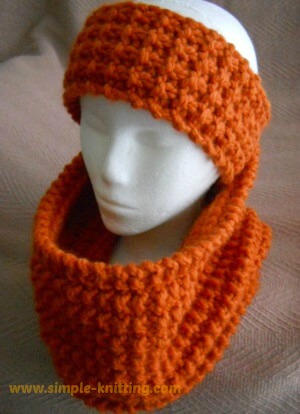 For this knitting pattern I decided to use Lion Brand Wool-Ease Thick & Quick. I love this super bulky yarn and it's great for a quick and easy knitting project. They have great color choices too.

Again though I understand some of you can't use wool products and you'll be able to use any super bulky yarns for this pattern.
Here is a PDF version of the broken rib cowl and headband pattern 
Broken Rib Cowl and Headband Patterns
Skills Required: Knit, Purl, Slip 1 stitch (as if to knit), Cast On, Bind Off
Gauge:  2.5 sts per inch

Materials: 2 Skeins Lion Brand Wool-Ease Thick and Quick (I used the color pumpkin)
Needles:  US 15 (10.0 mm)
Abbreviations:  K, k = knit, P, p = purl, st(s) = stitch(es)
Size: Cowl is 29" long before seaming and approximately 8" wide. Headband is approximately 20" long and 3.5" wide.
Notes: For the cowl I added 2 extra stitches for the edges, and on every row I slipped the first stitch as if to knit and I knit the last stitch. 
This size cowl took one ball of yarn and was approximately 29 inches long. If you want to make it longer just add a new ball of yarn and continue on in pattern. 

For the headband, rather than slip the first stitch of every row I knit it and gave it a good tug to keep an even edge and I knit the last stitch. Make sure to measure your head. 
What you want to do is knit the headband about ½" - 1" shorter than the width of your head. It should fit nice and snug without being too tight.

Broken Rib Cowl Pattern
Cast on 22 sts

Row 1:  Slip 1st st as if to knit, knit to end of row

Row 2:  Slip 1 st as if to knit, *K1, P1 across row to last st, knit 1
Repeat row 1 and 2 until you reach 29 inches or almost to the end of your ball of yarn. End with a knit row. (Watch you want to do is leave enough yarn to bind off your stitches)
Next Row:  Bind off in ribbing

Finish:  Seam ends together and enjoy.
 Broken Rib Headband Pattern
Cast on 10 sts

Row 1:  Knit (Remember to give that first stitch a good tug)

Row 2:  Knit 1st stitch and give a good tug, K1, P1 to last stitch, K1

Repeat row 1 and 2 for approximately 19 or 20 inches ending with a knit row.

Next Row:  Bind off in ribbing.

Finish:  Sew up seam and enjoy.
Happy Knitting! 
I am a participant in the Amazon Services LLC Associates Program, an affiliate advertising program designed to provide a means for sites to earn fees by advertising and linking to Amazon.com and affiliated sites. If you make a purchase through one of my links I may receive a small commission. This will not affect the purchase price and you will not pay more when you buy through my link.