Single Chevron Stitch Pattern
The single chevron stitch is a lovely textured pattern using knit and purl stitches and it creates pretty wavy lines or zigzags across your knitting. 

It's very similar to the ripple stitch, zigzag stitch and the afghan stitch patterns which are pattern variations and they're all fun to knit.  

This one in particular seems more dainty and pretty and that's why I chose it.

If you're knitting a sweater in Stockinette you may enjoy trying the single chevron stitch instead to add more interest. It will be lovely with those textured stitches. 
Chevrons can be thicker by using more rows to create the zigzag pattern or more rounded looking. Or the 'V's can be more elongated. 

Some knitted chevron patterns are made with pretty little eyelets for a very feminine, delicate texture.
 And some pattern variations are made with different colors for a really colorful effect. 

This chevron stitch pattern is a nice simple pattern to try. And it's so fun to knit. 
You can knit practically anything with the single chevron stitch and I'm sure it'll be lovely, here are a few ideas: 
knitted blankets
throws
pillow covers
scarves
pullovers
cardigans 
hats
You'll also find many pattern variations for the chevron stitch or zigzag stitch. Some chevron patterns look more rounded and much thicker.
I chose the single chevron stitch because it's quite simple to do and it uses knit and purl stitches only. It's also kind of dainty looking.

Single Chevron Stitch Pattern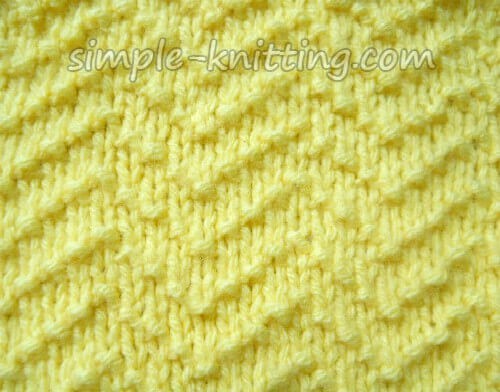 Abbreviations:  k = knit, p = purl, rep = repeat

Pattern is worked on a multiple of 8 stitches.

If you'd like to knit a sample cast on 16, 24 or 32 stitches.
1st Row (right side): *Purl 1, knit 3; rep from * all along row to end

2nd Row: *Knit 1, purl 5, k1, p1; rep from * all along row to end

3rd Row: *Knit 2, p1, k3, p1, k 1; repeat from the * all along row to end

4th Row: *Purl 2, k1, purl 1, knit 1, p3; rep from * all along row to end

Keep working these 4 rows to create pattern
Chevron Knitting Pattern 
I found a lovely free chevron scarf pattern for you to try and it looks pretty easy too. It's made by Red Heart Yarns and looks pretty simple to knit. Hope you enjoy making it.
Happy Knitting!