Old Shale Stitch Pattern 

Some say Old Shale and some say Feather and Fan but if you want to know the truth they are separate stitch patterns and different. 
This beautiful stitch pattern has been called Feather and Fan by many and still is. 
In fact if you do a search for Feather and Fan online, more than likely you'll find this stitch pattern.
But as I was preparing to build this page I started doing a little research as I often do. 
Wow I'm glad I did too because I found some interesting knitting information about this beautiful Old Shale stitch pattern.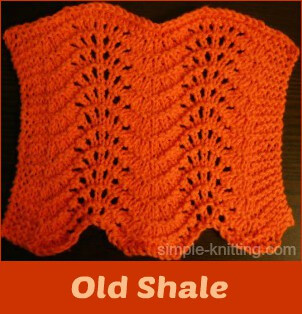 You see I noticed that there were a couple of names associated with this stitch pattern and I really wanted to know which one to use. 

Somehow the name Feather and Fan never seemed to fit this pattern. So I just had to check into it a little further.

That led me to a very interesting post, Feather and Fan versus Old Shale by Elizabeth Lovick and I wanted to share it with you.
After reading Elizabeth's post I felt it made much more sense to call this pattern the Old Shale stitch. 
It always reminded me of the ocean; waves and pretty sea shell.  Even the word Shale sounds like shells.
So on to knitting this lovely stitch pattern
I bet you think this looks really difficult to knit right?  I mean I sure would.
But guess what? It really isn't too hard to knit at all. In fact it's one of those stitch patterns that look really difficult when it really isn't. 
It just has one pattern row, that's it. The other rows are knit and purl. 
And one thing I'll say about that one pattern row is go slowly with it. It's not difficult to knit, it's just a little detailed that's all. 
If you're just beginning with lacy knitting this is a perfect lace stitch pattern to work with as well.  
And if you knit up a baby blanket or a shawl with this lovely stitch, people are going to think you are a knitting superstar.   And you will be!
Besides making blankets and shawls you can also use this pattern for scarves, fingerless mittens, hats and even skirts and dresses.  
Just look at the beautiful border that it creates all on its own. 
Old Shale Stitch Pattern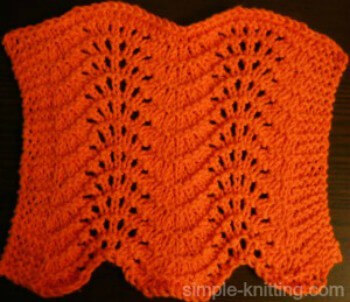 Skills Required: 
Knit
Purl
YO - yarn over (Bring yarn to front of work)
K2tog - knit 2 together
---
This pattern is knit over a multiple of 18 stitches
If you'd like to knit a sample cast on 18, 36 or 54 stitches
Row 1: Knit
Row 2: Purl
Row 3: *K2tog 3 times, (yo knit 1) 6 times, k2tog 3 times, repeat from * (Remember now, go slowly with this row)
Row 4: Knit
These 4 rows complete the pattern.
Enjoy this pretty stitch pattern!
Like This Page?  Please Share it