Marina Knit Cowl Pattern

Cowl Knit On Straight Knitting Needles
Today I have the marina knit cowl pattern for you to enjoy. And I'm so in love with the colors. 
It's something light and bright for those cold, dark and cloudy days.
This is an easy knit pattern just in time for the Fall season or for gift giving.
And my cowl was knit on straight knitting needles. I just can't seem to help myself when it comes to knitting flat. 
You can knit a cowl on straight knitting needles for those of you who were wondering. It's super easy to do and it's fun too.
If you enjoy cowl knitting you'll really like this easy knitting pattern. I added some textured knitting stitches to it for some interest.  

The trim on the marina knit cowl is made with the seed stitch pattern and the body of the cowl pattern is made with the lovely dot stitch pattern.  
It knits up quite fast too, a couple of evenings and you'll have it finished or if you're a fast knitter it may only take you one evening to make it.

It's also a nice, easy knitting idea for gifts too, with the holidays just around the corner. And this is an easy knit to make.

This is an up close look at the dot stitch pattern I used. I just love those textured stitches.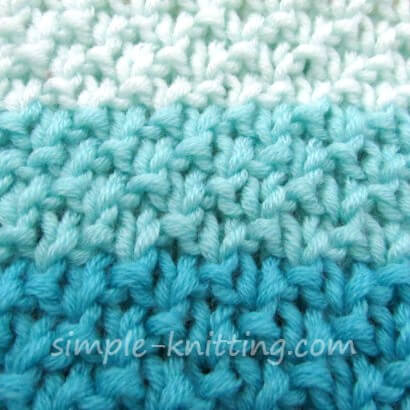 And it's really simple to knit and also to incorporate into any pattern.

So How Much Yarn Do You Need To Knit A Cowl?
For my cowl pattern I used 127 yards (116m) of bulky (5) yarn. There was only a tiny bit left. 
What Is A Good Length For A Knitted Cowl?
You can knit a cowl any length you want. All you have to do is take a measuring tape and wrap it around your neck letting it drape down.  
Then just choose the length you'd like it to be. If you knit it long enough you can drape it around your neck a couple of times.
Maybe you're interested in having a cowl that's right up against your neck like a turtle neck type.  
For instance, when I knit my neck warmer all I could think about was keeping warm so I just wanted it right up against my neck. 
I didn't want anything to fiddle with so the neck warmer was the way to go.
How Many Stitches Should I Cast On For A Cowl?
That depends on what kind of yarn you're using.  For instance if you're knitting with a super thick yarn you won't need a lot of stitches.
And likewise, if you are knitting with a thinner yarn you'll end up needing a lot more stitches to cast on.  
It comes down to knowing what your knitting gauge is first and then it's really easy to figure out how many stitches you'll need for a cowl scarf.
Here's an example. Say you like the length at 24 inches. Figure out what your knitting gauge is and let's say you have 4 stitches per inch. 
You'll multiply 24 inches X 4 = 96 and 96 stitches is what you'll cast on for your cowl.  Easy peasy right? 
So let's start knitting this knit cowl pattern and I hope you enjoy it.
Marina Knit Cowl Pattern Details
Skills Required: Knit, purl, cast on, bind off, joining yarn
Gauge: 3.25 sts and 5 rows = 1 inch  Gauge isn't too important.
Materials: Bulky (5) yarn approximately 127 yds (116m) 
Needles:  Size US 11 (8mm)
Dimensions: Approximately 6.5 inches in height and 26 inches in circumference
Abbreviations:  K, k = knit, P, p = purl, rep = repeat
Notes:  I used two stitch patterns for the Marina Cowl, seed stitch pattern and dot stitch.  
You can use any color yarn you'd like, self-striping and even variegated would look lovely and so would one color.  
The seed stitch pattern and the dot stitch will both stand out and look pretty!
I also added two extra stitches in order to create a selvage edge. It'll make it easier to seam the ends together.

Click here to download my knit cowl pattern  
Marina Knit Cowl Pattern Instructions
Cast on 86 sts using the long tail cast on or your preferred cast on.
Work 7 rows of Seed stitch. For seed stitch knit as follows: 

Row 1:  K1, *k1, p1, rep from * to last stitch, knit 1

Row 2:  K1, *p1, k1, rep from * to last stitch, knit 1

Now proceed in the following dot stitch pattern for about 5.5 inches or desired height.
Row 1:  Knit

Row 2: K1, *K1, P1, repeat from * to last stitch, K1

Row 3:  Knit

Row 4: K1, *P1, K1, repeat from * to last stitch K1

Continue knitting in pattern until you reach 1 inch before the top and ending on row 2 or 4. 

Your work should measure about 5.5 inches or your desired height 
Next Row: Knit across row.
Then proceed in seed stitch for 6 rows.

Bind off very loosely.

Finish:  Weave in ends and seam ends together.  Then simply enjoy!
Like This Page?  Please Share it