Marina Knit Cowl Pattern
I just finished my marina knit cowl pattern and I'm totally in love with the colors and the yarn. And it's a lovely quick to knit project just in time for the Fall season.  
If you enjoy cowl knitting you'll really like this easy knitting pattern.  I didn't want the knitting to get too boring so I added some textured knitting stitches to it for some interest.  

The trim on the marina knit cowl is made with the seed stitch pattern and the body of the cowl is made with the lovely dot stitch pattern.  

It's a pretty little cowl scarf isn't it?  I think it's the lovely colors or maybe all those textured knitting stitches.  
It's knits up pretty fast too, a couple of evenings and you'll have it finished or if you're a fast knitter it may only take you one evening to make it.

The marina knit cowl is a great knitting idea for gifts too, after all it's a fast and easy knit to make.

This is an up close look at the stitch pattern I used called the dot stitch.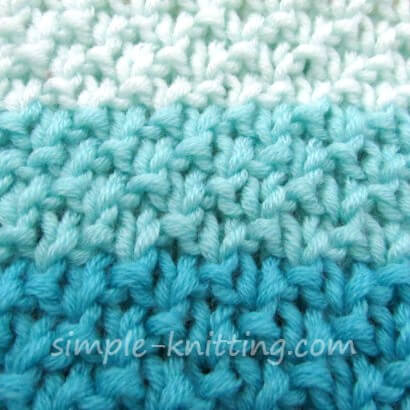 It's quite lovely isn't it?  And it's really simple to knit and also to incorporate into any pattern.

Oh and I just wanted to mention the yarn I used for my knit cowl pattern because it's fairly knew and it's so pretty.  This yarn is wonderful to knit with.
It's from Yarnspirations and it's called Caron X Pantone.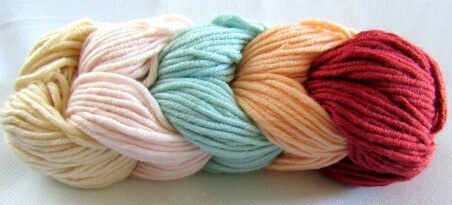 The yarn comes in a braid like this and all the colors are matched for you.  Yay! 

It's also the perfect amount for my knit cowl pattern.

Now it's decided for me and lets me get started knitting faster. I'm not the best when it comes to figuring out color choices so I love this idea.

There's 127 yards (116m) which was just perfect for my knit cowl pattern.

One thing to note when you try this new yarn.  Each piece of the braid is in a mini hank so be careful when you take it apart.  

In case you're a beginner knitter, you'll need to make yarn balls out of each piece of the braid.  

If you start knitting with it before it's made into a ball of yarn it'll get all tangled and you won't be able to use it.

What I did is laid out each piece of the braid in a small circle since there isn't a lot of yarn in each mini hank.  Then I just started winding the yarn into a mini ball of yarn. 
I hope you enjoy my marina knit cowl pattern as much as I did making it.
Click on the link to download knit cowl pattern 
Marina Knit Cowl Pattern Details
Skills Required: Knit, purl, cast on, bind off, joining yarn
Gauge: 3.25 sts and 5 rows = 1 inch  Gauge isn't too important.
Materials: Bulky (5) yarn approximately 127 yds (116m) 
Needles:  Size US 11 (8mm)
Dimensions: Approximately 6.5 inches in height and 26 inches in circumference
Abbreviations:  K, k = knit, P, p = purl, rep = repeat
Notes:  I used two stitch patterns for the Marina Cowl, seed stitch and dot stitch.  You can use different colored yarns or simply make it plain. I used Caron X Pantone and just love the yarn!  
Also if you're going to use different colors like the Marina cowl make sure that you change colors on a knit row which are rows 1 and 3.  Why?  

That way the new colors will simply flow into each other and it won't look inside out.   

Also, I added two extra stitches in order to create a selvage edge. It'll make it easier to seam the ends together.

Marina Knit Cowl Pattern Instructions
With first color cast on 86 sts using the long tail cast on or your preferred cast on.
Work 7 rows of Seed stitch. For seed stitch knit as follows:

Row 1:  K1, *k1, p1, rep from * to last stitch, knit 1

Row 2:  K1, *p1, k1, rep from * to last stitch, knit 1

Proceed in the following pattern changing colors either on row 1 or 3 as needed. 

For instance if you're using another color after working the seed stitch, switch it now and proceed with the first row.

Note:  I changed colors after 6 rows so I knit the 4 row repeat and then row 1 and 2 then changed colors for row 3.

Row 1:  Knit

Row 2:  K1, K1, P1 to last stitch K1

Row 3:  Knit

Row 4:  K1, P1, K1 to last stitch K1

Continue knitting in pattern until you reach 1 inch before the top and ending on row 2 or 4.  

With final color knit across row.  

Then proceed in seed stitch for 6 rows.

Bind off very loosely.

Finish:  Weave in ends and seam ends together.  Then simply enjoy!