Hooded Cowl
This hooded cowl was so fun and easy to make. I love knitting in the round. Somehow it seems so much easier plus I love the fact that when I knit in the round there are no seams when I am finished. How great is that?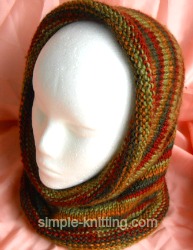 I was on a mission when I knit this up.  I always use a scarf in the winter and end up wrapping the scarf around my head when it gets cold and windy. It doesn't always work either, so it was time to make something that would keep my neck warm and my head and ears warm too.
This hooded cowl is the greatest thing since sliced bread for me. I love it and I thought you might like it too.
If you are new to circular knitting this pattern is great for you to start with. In fact it doesn't get easier than this.
This knitting pattern is very versatile as well which means that you can use any kind of yarn to make it. 
How Would I Make This in a Thick Yarn?
I'm glad you asked because it's very simple.
First you need to know how many stitches per inch you have so....
Make a gauge swatch
Let's say your swatch reads 3 stitches per inch.  
Measure your head or the head of the person you're making the hooded cowl for and let's pretend the measurement is 20 inches.
Multiply the head measurement by the stitches per inch:
20 inches X 3 sts per inch = 60 stitches
Now that will work however what if you want to make the hooded cowl looser? 
Easy. All you need to do is add ½ – 1 inch more to the head measurement or even more if you want too.
20 inches + 1 inch = 21 inches X 3 sts per inch = 63 sts to cast on. 
The same rules apply if you want to use a thinner yarn as well.  
Now you're ready to go.
If you'd like to download this knitting pattern as a PDF please click here.
Here's my Hooded Cowl Knitting Pattern
---
Skills Required
Circular Knitting
Knit stitch
Cast on
Bind off
Materials:
Yarn:  1 skein worsted weight (medium) yarn, approximately 100 grams
Circular needles:  Length = 16 inches, size US 8 (5.00 mm)
Gauge
4.5 sts and 6 row = 1 inch
---
NOTES:  Here's a little knitting tip and what I like to do before joining my work in the round.  As you may know it's really important to make sure that none of the stitches are twisted around the needle. If they are you will have to rip your knitting out. And I've done it.  So I like to knit flat for a couple of rows before I join my work.  That way it's easier to see if my work is twisted or not.
When I knitted this hooded cowl I knit 4 rows of Garter stitch flat.  You could of course knit Stockinette stitch (knit one row, purl one row) if you wish. It doesn't matter. Then I joined my work.
Pattern
Cast on 92 stitches and don't join. 
Knit 4 rows Garter stitch
When you finish the 4 rows, straighten out your knitting and make sure your stitches aren't twisted around the needle. Join work and place a marker at the beginning of your work so that you know where your round begins.
Knit around and around for at least 20 inches ending with 4 rows of Garter stitch just like in the beginning.
Finish
Bind off very loosely. Seam those 4 rows of garter stitch you did before joining your work, weave in ends.
Enjoy