Knitting Forum
My new knitting forum was inspired by all the wonderful comments by visitors to my website.
I've enjoyed receiving all your questions about knitting and your thanks for my simple knitting guides to help you learn how to knit. The problem was that the comments box at the bottom of my website pages wasn't big enough to respond to your questions...until now.
Now knitters can have a safe and friendly place to ask questions, get knitting help, share their knitted creations and become part of a friendly knitting community. We can all help each other and have some knitting fun too. 
Simple-Knitting is very proud and excited to present to you a brand new knitting forum, "Knitters Digest Forum" which is now open for everyone from beginning knitters to advanced knitters. You're all welcome here!
And I'm giving a huge thank you to my dearest friend Ted Summerfield who created Smashwords Forum and who helped make Knitters Digest Forum a reality. 

If you'd like to run over there and take a look here's the link for Knitters Digest Forum.
Or keep reading and I'll give you a run-down of the basics. 
To start off with, the most important part is reading the forum guidelines.
Right near the top of my forum you'll find a light beige/brown bar with some light blue text on it. The first part reads, 'Unfamiliar With Forums...' Click on that light blue text to open my guide and read how to use the forum. It will help you understand how to use it as well as show you all the features it has. There is a harvest of help on using it.
Now let's continue...

Below is a list of the forum boards I've created and populated with a number of threads.  All it needs now is you to join and help build a wonderfully friendly and helpful knitting community. 
Forum Boards List
1. Site Additions or Alterations Suggestions During Beta Testing
2. Introduce Yourself
3. Simple Knitting How To's For Beginners, Including Help for Beginners
4. How to Start Knitting
5. Help For Beginning Knitters
6. Help Please
7. General Discussions About Knitting
8. Regional Festivals, Show and Classes
9. Wool and Other Fibres
10. Business
11. Members Pictures
12. Patterns Please
13. Knitting Resources 
14. Classifieds
15. General Discussions NOT About Knitting
If there's something you'd like to see added to this list please let me know by posting your request in the category 'Site Additions or Alterations Suggestions During Beta Testing'. 
Knitting Forum Preview With Collapsed Categories
Here is a screen shot of how my new forum looks with collapsed categories. The reason I chose collapsed categories is that many visitors to forums and websites use mobile devices. I want to make it easier for those members to view and participate in my new knitting forum as well. The collapsible categories save space for mobile users and is smart for desktop users as well.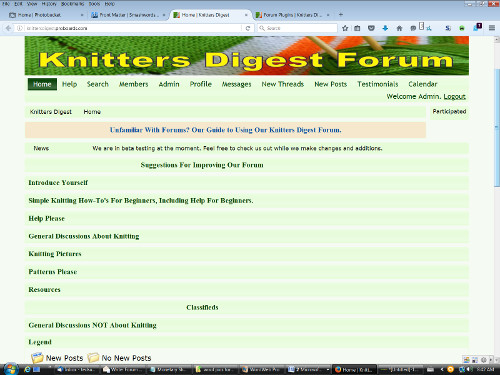 The categories are shown in the light green bars going across the page. The first category is 'Introduce Yourself'. The second Category is 'Simple Knitting How-To's For Beginners, Including Help For Beginners.'
Knitting Forum Preview With Expanded Categories
When a member clicks on a collapsed category it expands to show the Forum Boards in that category as shown below.
The light blue text on the left are links for that board. Clicking on the left link opens that board.

The light blue text on the far right are links to the last post in that board. Clicking on the far right link opens that post and a forum member can add their thoughts to the discussion or create a new discussion (called Threads)
Another neat thing about the forum is that it remembers what boards you expanded when you finished visiting, so the next time you visit the forum it's exactly how you left it.
There are so many more things I can describe to you about my new knitting forum but why not head over there and have a good look around. Join for free and together we'll create a wonderful knitting community of helpful knitters.
Above all else my hope is that this knitting forum will be a friendly knitting community, a gathering place where you can grab a cuppa coffee, come on in, feel welcome and enjoy sharing with fellow knitters.