Big Ol Knitting Bag 
I just love my big ol knitting bag. It's soft and colorful and keeps my current knitting project in a nice clean spot.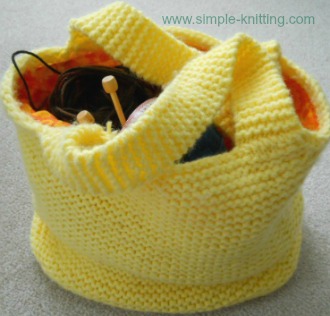 This bag wasn't a planned knitting project either.  I had originally started knitting a bunch of big squares and I was just going to sew them all together for a blanket.  
But, well....
I just lost interest. Yup my heart wasn't in it, so I just tucked away all the squares I made and left them. 
One day though as I was going through all my UFO's (unfinished objects) my yellow squares SHOUTED at me. 
HEY!
Sew me up and make me a big ol knitting bag. What are you thinking? A nice touch of sunny color and I'm lying here doing nothing! 
So I did...
Haha OK I haven't lost my mind but honestly sometimes I think this way. And It was my 'give your head a shake moment'.
And by the way from that day forward I never used those plastic bags again. I don't know why I did that you know.
By simply putting all my knitting into project bags, yarn bags and big ol knitting bags like this one it changed my feelings somehow. It's respect.  Respect for the people I give my knitting too and respect for what I do.  
I take care of my things and my love and passion for knitting yarns and knitting in general is important to me.  After all when I purchase something and love it I'm not going to throw it in a plastic bag right?
Of course now my knitting yarns are in big containers and I'm running out of space to live...but I'm happy. The only thing missing for me now is a cat and I hope someday soon I'll be able to have one. Cats are my other love.  Umm and chocolate.
OK you've seen another side of me today with this post.  That's my rant for the day. 
So this big ol' knitting bag pattern is one that I had to remake into a pattern for you. But the nice thing is it's super easy to knit. I just love knitting garter stitch.  It makes a nice cozy, squishy fabric.
Basically it's two big squares knit in garter stitch and I added a gusset so that it would be even bigger.
If you would like to download this pattern as a PDF just click here
Big Ol Knitting Bag Pattern

---
Skills Required:  Garter stitch
Gauge:  3 sts and 6 rows = 1 "  

Gauge is not really  important.
Yarn: Super Bulky, or Worsted Weight holding 2 strands together 
Needles:   10 (6.00 mm) or 11 (8.00 mm) will work. But you can experiment. Which ones are more comfortable in your hands.
---
Pattern Notes
I used two balls of worsted weight yarn holding 2 strands together in order to get the thickness I wanted.
However it may be easier for beginners to use the super bulky yarn and just use one strand.  It will be easier for you that way and you don't have to worry about holding 2 strands in your hand. 
The gusset was made in one long fat strip and then sewn onto the squares and along the bottom. This makes the big ol knitting bag nice and big.
You can make these squares any size you like by increasing or decreasing the amount of stitches you use.  Feel free to experiment.  And use whatever size knitting needle you like as well.
Remember that if you use a smaller size needle your knitting will be thicker and the bigger your needles are the thinner the fabric will be.  Have fun with it.
Big ol Knitting Bag Pattern Instructions
Make 2 squares
Cast on 36 stitches. Use whichever cast on method you prefer
Knit until your square is approximately 12 inches.  Cast off loosely
Gusset
Cast on 18 sts and knit for approximately 36 inches.  Bind off loosely.
Handles
Cast on 8 - 12 sts. depending how wide you want your handles to be and knit for approximately 12 inches. You can make the handles any length you wish. Just remember that the wonderful garter stitch does stretch.
Finishing
Sew squares to the gusset. For the handles, seam one end of the handle to one end of square and the other end of handle to the other end of square. Repeat for the other side.
Lining - To Line Your Knitting Bag or Not
You don't have to line your bag if you don't want. It is totally a matter of preference.
Here are some tips if you choose to line your knitting bag.
Pick out a fabric and sew together an exact copy of your knitting bag making sure that it is ever so slightly smaller.  This way it will fit into your knitted bag.
Next, place the lining into your bag and tack down the bottom of the fabric to the corners of the bag and along the side seams.  
Finish by whip stitching all around the top edge of your bag. I always place the fabric lining about a 1/4" lower than the top edge.
Now you're all finished.  I really hope you enjoy your big ol' knitting bag as much as I do!